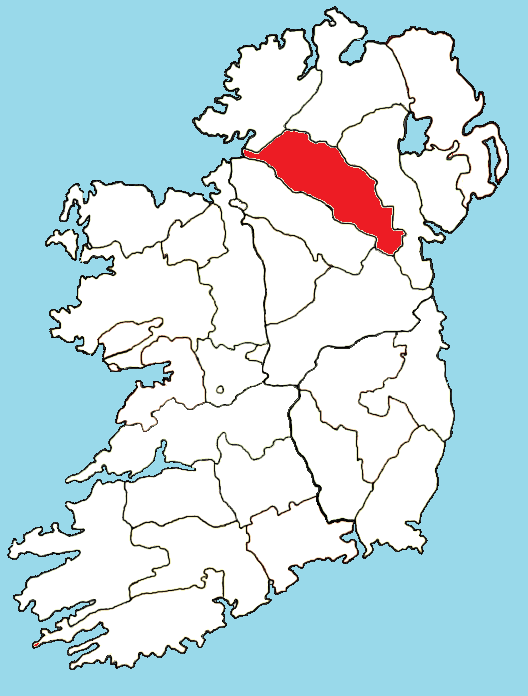 The Diocese of Clogher which includes County Monaghan, most of County Fermanagh and portions of Counties Tyrone, Donegal, Louth and Cavan, extending cross country from the Atlantic Ocean almost to the Irish Sea.
The Diocese of Clogher is part of the Ecclesiastical Province of Armagh.
The Roman Catholic Diocese of Clogher (Irish: Deoise Chlochair) was formed in 1111 at the Synod of Rathbreasail as the see for the Kingdom of Uí Chremthainn. It is part of the Province of Armagh.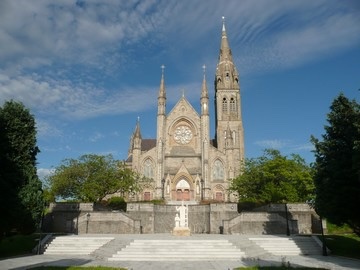 The original Cathedral was in the village of Clogher in County Tyrone, site of a monastery founded in 454 by St. Macartan, who was appointed bishop by St. Patrick in the 5th century. Following the Reformation, Henry VIII confiscated Clogher Cathedral for his Church of Ireland and the Roman Catholic diocese was without a permanent see until 1851 when a decision was made to move to the larger town of Monaghan 32 kilometres south east of Clogher village. The foundation stone of a St Macartan's Cathedral was laid in Monaghan in June 1861. The Cathedral was dedicated in August 1892.
Today the Diocese has a faithful of over 100,000 parishioners spread across 39 Parishes.
* Source wikipedia
Our current Bishop is the Most Reverend Lawrence (Larry) Duffy who was appointed 8th December 2018 and ordained Bishop on 10th February 2019.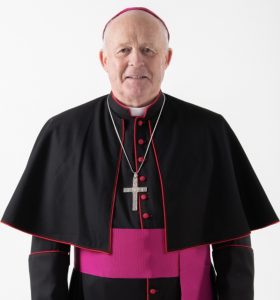 The Parishes of Clogher
PARISH OF MONAGHAN – County Monaghan – www.monaghan-rackwallace.ie
PARISH OF ARNEY (CLEENISH) – County Fermanagh – www.cleenishparish.weebly.com
PARISH OF AUGHNAMULLEN EAST – County Monaghan
PARISH OF TULLYCORBET (BALLYBAY) – County Monaghan – www.tullycorbetparish.com
PARISH OF INIS MUIGHE – County Fermanagh
SAMH (BELLEEK-GARRISON) – County Fermanagh
PARISH OF BROOKEBORO (AGHAVEA-AGHINTAINE) – County Fermanagh/Tyrone
(Our Parish) PARISH OF BUNDORAN (MAGH ENE) – County Donegal – www.magheneparish.ie
PARISH OF CARRICKMACROSS (MACHAIRE ROIS) – County Monaghan – www.carrickmacrossparish.ie
PARISH OF CASTLEBLAYNEY (MUCKNO) – County Monaghan – www.mucknoparish.ie
PARISH OF CLOGHER – County Tyrone
PARISH OF CLONES – County Monaghan/Fermanagh – www.clonesparish.com
PARISH OF CLONTIBRET – County Monaghan
PARISH OF CORCAGHAN (KILMORE & DRUMSNAT) – County Monaghan
PARISH OF DERRYGONNELLY (BOTHA) – County Fermanagh – www.parishofbotha.com
PARISH OF DONAGH – County Monaghan
PARISH OF DONAGHMOYNE – County Monaghan – www.donaghmoyne.com
PARISH OF DROMORE – County Tyrone – www.dromorecatholicparish.com
PARISH OF EDERNEY (CÚL MÁINE) – County Fermanagh – www.culmaine.co.uk
PARISH OF ENNISKILLEN – County Fermanagh – www.saintmichaels-parish.com
PARISH OF ERRIGAL TRUAGH – County Monaghan
PARISH OF ESKRA – County Tyrone
PARISH OF FINTONA (DONACAVEY) – County Tyrone – www.fintonaparish.com
PARISH OF INNISKEEN – County Monaghan/Louth
PARISH OF IRVINESTOWN (DEVENISH) – County Fermanagh – www.devenishparishirvinestown.com
PARISH OF KILLANNY – County Monaghan/Louth – www.killannyparish.ie
PARISH OF KILLEEVAN (CURRIN) – County Monaghan
KILLEEVAN & AGHABOG) – County Monaghan
PARISH OF LATTON (AUGHNAMULLEN WEST) – County Monaghan
PARISH OF LISNASKEA (AGHALURCHER) – County Fermanagh – www.lisnaskeamaguiresbridgeparish.com
PARISH OF MAGHERACLOONE – County Monaghan
PARISH OF NEWTOWNBUTLER (GALLOON) – County Fermanagh – www.galloonparish.com
PARISH OF PETTIGO – County Donegal
PARISH OF ROCKCORRY (EMATRIS) – County Monaghan
PARISH OF ROSLEA – County Fermanagh/Monaghan – www.parishofroslea.com
PARISH OF TEMPO (POBAL) – County Fermanagh – www.pobalparish.com
PARISH OF TRILLICK (KILSKEERY) – County Fermanagh/Tyrone
PARISH OF TYDAVNET – County Monaghan
PARISH OF TYHOLLAND – County Monaghan
Further Information from Clogher Diocesan Website www.clogherdiocese.ie