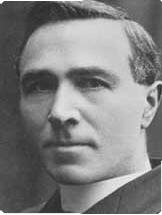 Fr. Cornelius Tierney was born in Clones Parish (1872), studied in St. Macartan's College, Monaghan and St. Patrick's College, Maynooth, where he was ordained in 1911. For some years he then taught in St. Macartan's College, Monaghan, before being appointed as a Curate to the Rock, Ballyshannon. He was the first Priest to reside in the newly built Priest's house there. At the age of forty six, in 1918, he volunteered to join the infant St. Columban's Society, then known as the Maynooth Mission to China.
Fr. Tierney travelled to China with 16 others priests in 1920, for the next decade he worked with local people and his fellow Columbans as a missionary to the then civil war torn people of China. At 6.00 a.m. on a cold November morning as he was about to celebrate Mass at the Shang Tang Hsu mission station, near Kien Chang, Fr. Tierney was arrested by a communist gang who had just taken over the local area.
From 1920 to 1927, he worked with the first Maynooth missionaries in Hupeh in the heart of China and even among his confreres there, he won repute as a first-class, self sacrificing missionary.
Returning home in 1927, he visited this Parish, celebrating Mass, visiting the Schools and the Parishioners he knew so well. He was appointed Director of the Kien Chang Missionary area at that time and returned to China with two other Clogher Priests. It was a difficult life with many dangers and problems. At 6 am on November 13th 1930, while getting ready to celebrate Mass, he was arrested by Communist soldiers who accused him of being an "imperialist spy". He was stripped, scourged and imprisoned. A ransom of 10,000 dollars was demanded and the demand was later increased to €50,000 and when this was not forthcoming he was taken as a captive to the Kiangsi hills.
During the three and a half months he spent as a prisoner, his health deteriorated but he won the esteem and respect of his captors, especially the children of the camp who cared for him. The efforts of other Priests and the Government of NanKing finally succeeded in freeing Fr. Tierney but on his way home he was recaptured by bandits and died in captivity, probably from malaria, on February 28th 1931.
His body was recovered, with difficulty, from the bandits and he was buried at Kien Chang. Since those days, Clogher Priests have tried to visit the burial place of Fr. Tierney but were unable to obtain permission to do so. We do not know today, whether his burial place is still honoured.
For those who may wish to read more about Fr. Tierney, some of the history of his life can be read on two framed newspapers of the time, on the interior wall of St. Joseph's, Ballyshannon.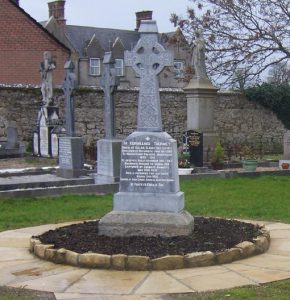 Outside, a Celtic Cross has been placed with information relating to Fr. Tierney's life.
The GAA park in Ballyshannon has been named after him. There is a book entitled "Part of the Bargain" edited by Fr. B. Smith which incorporates many of the letters Fr. Tierney wrote to friends at home. In one of his final letters, written while in captivity, he asks for prayers that he may be "fortis and fidelis", brave and faithful in his vocation. We can be sure that the Lord had a special reward for him in Heaven.
The 80th anniversary of his death was remembered as part of the St. Macartan's Day schools celebrations in 2011.