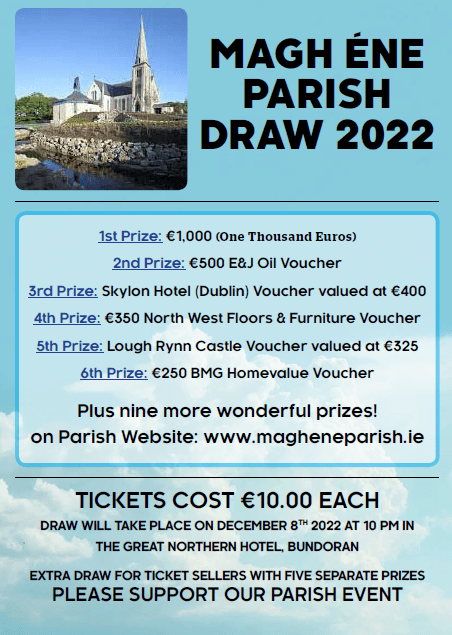 Tickets are available from the Sacristy or Parish Office any day after Mass or by calling the Parish Office (071 9841290). In days to come, many Parishioners will also make tickets available in all townlands and housing areas but please make the effort to personally obtain tickets. Perhaps a ticket during Lent might be both a penance and a kindness to the Parish.
1st Prize: €1,000 (One Thousand Euros).
2nd Prize: €500 E&J Oil Voucher.
3rd Prize: Skylon Hotel (Dublin) Voucher valued at €400
4th Prize: €350 North West Floors & Furniture Voucher
5th Prize: Lough Rynn Castle Voucher valued at €325
6th Prize: €250 BMG Homevalue Voucher
7th Prize: €250 BMG Homevalue Voucher
Other vouchers from Pillbox Pharmacy, Madden's Bar & Restaurant, Cassidy's Electrical Euronics, Donegal Waste and more to come.